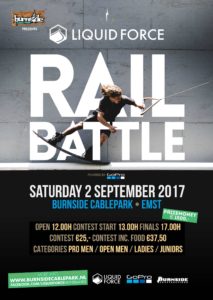 Get Ready for the 2017 edition of the Liquid Force Railbattle, Powered by GoPro!!!
On September 2nd Burnside Cablepark will be the stage for some of the best railriders around! Just like every year we're building a unique rail setup just for the contest!
We'll have a Pro Men, Open Men, Ladies and Juniors Category.
Pro Men & Open Men (17+)
Ladies (all ladies)
Juniors (16 and under)
Contest €25,00
Contest + Food €37,50
Food Only €15,00
Don't forget to sign up by sending an e-mail to ivar@tomswholesale.nl with your name, age, homecable, category and use LFRailbattle 2017 as subject.
Burnside Cablepark will open at 12.00H
Contest starts at 13.00H
We aim to have the Finals at about 17.00H
(time table may be subject to changes)
Keep an eye on this event page and stay up to date!
Thanks thanks for the support:
Liquid Force
GoPro
Burnside
Lifeproof
Oakley Amsterdam
Goal Zero
WaxThat